About.
SOULFUL SOUNDS. FLAMENCO FIRE.
Trio Caliente unites and inspires audiences around the globe with their inimitable blend of Flamenco, Pop, and Latin Dance Music. Enjoyed by political luminaries stateside and abroad, notable Fortune 500 companies, and venerated international organizations, festivals and concert venues around the world, Trio Caliente delivers unique sound and style to any occasion– providing an unforgettable experience for your private event.
Fiery Spanish flamenco guitar pyrotechnics fuse with hot, Pop Latin dance grooves sung by soulful, sultry vocals.
Salsa, reggaeton, gypsy rumba and bossa nova spice up the flavor while R & B vocal power drives home the groove.
Inspirations? Think: Rodrigo y Gabriela, the Gipsy Kings, Pink Martini, the Buena Vista Social Club and Ottmar Liebert meets  Shakira, Celia Cruz, Camila Cabello, Aretha Franklin, and Gloria Estefan.
Music.
Trio Caliente performs their unique, all-original Latin-fusion dance music at concert venues and private events – locally and around the globe. Upon request, Trio Caliente also performs classic Latin and Pop dance hits of all decades and styles, including Flamenco Rumba, Pop, Funk, Rock, Salsa, Brazilian Jazz, Cumbia and Reggaeton.
The Trio is comprised of guitarists, Miguel Bard and Benjamín Schnake, vocalist/percussionist, Belladonna and electronic percussion.
For larger venues and shows, Trio Caliente easily adds Congas/Soneo Vocals, Electric Bass, Piano, and Percussion for the expanded 7-piece "Caliente" sound.
Check out Trio Caliente's original releases – Goza!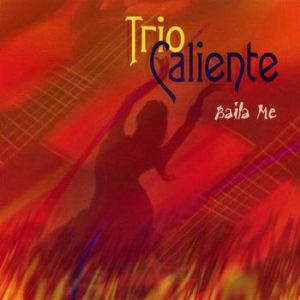 With instant acclaim, Trio Caliente's premiere album, "Baile Me" hit the Latin and Billboard charts – winning   airplay on Adult Contemporary and Latin radio formats nationwide and airing on both NBC's hit TV show, "Smash" and E! Network's comedy talk show, "Chelsea Lately", as well.
(It all started here!)
THE SHOW MUST GO ON.
December

2023

Sun
Mon
Tue
Wed
Thu
Fri
Sat

18

Mike White birthday

Rehearsal w/Rosa

• •
Testimonials.
"…be seduced by the blend of fiery guitar work…rumba beats, bossa nova rhythms, flamenco-tinted guitar flourishes and romantic ballads…evocative vocals…shimmering guitars..."
Mike Joyce, The Washington Post (reviewing Trio Caliente's CD, "Baila Me"
"Consummate Musicians – a true delight, adding just the right touch to the evening!""
Mary Hall Surface – Director, The Atlas Performing Arts Center
"Rave reviews for your performance! Our guests can't stop talking about Trio Caliente!""
Roya Nassir – The Mayflower Hotel
Trio Caliente has performed for such political luminaries as former Secretary of State, John Kerry, former President, George H.W. Bush and Supreme Court Justice, Sonia Sotomayor – and at private events alongside such diverse artists and celebrities as Jay Leno,  Meryl Streep  and the late, Chuck Brown, to name a few!
Corporate clients include:  Microsoft Latin America, Target, Capital One Bank, Ted Talks, The World Bank, League of Latin American Citizens (LULAC), The Four Seasons Hotels, Hyundai Hope- on- Wheels,  The Congressional Hispanic Caucus Institute (CHCI), The U.S. Coast Guard, The Federal Reserve,  Childrens' Hospital,  Hispanic American Organization (HAO), Sherwin-Williams , and The Ritz-Carlton.
Contact.
YOU'VE GOT THE MIC.
Send us a message and we will take the time to get to know you so we can start off on our amazing musical adventure.